Posted May 2/10 - SCHEDULE RELEASED
Week One - June 27th, 2010
Anclote Pirates @ Clearwater Panthers (1:00 PM)

Tampa Bay Tigers @ Tampa Bay Bobcats (4:00 PM)



Week Two - July 4th, 2010
BYE WEEK FOR HOLIDAY



Week Three - July 11th, 2010
Clearwater Panthers @ Tampa Bay Tigers (1:00 PM)

Tampa Bay Bobcats @ Anclote Pirates (4:00 PM)



Week Four - July 18th, 2010
Tampa Bay Bobcats @ Clearwater Panthers (1:00 PM)

Tampa Bay Tigers @ Anclote Pirates (4:00 PM)



Week Five - July 25th, 2010
Tampa Bay Bobcats @ Tampa Bay Tigers (1:00 PM)

Clearwater Panthers @ Anclote Pirates (4:00 PM)



Week Six - August 1st, 2010
Anclote Pirates @ Tampa Bay Bobcats (1:00 PM)

Tampa Bay Tigers @ Clearwater Panthers (4:00 PM)



Week Seven - August 8th, 2010
Anclote Pirates @ Tampa Bay Tigers (1:00 PM)

Clearwater Panthers @ Tampa Bay Bobcats (4:00 PM)



Championship Week End - August 15th, 2010
Seed #2 vs Seed #1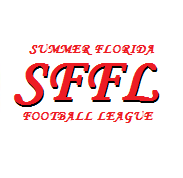 Posted Apr 24/10 - scorpions vs tigers
.
.

vs

.
May 8, 2010
Sky way park at 7:00 pm

The tampa bay tigers prepare for the first game of the summer season against the outspoken scorpions.This game will be alot different then the scrimmage the tigers will have there hole team and the scorpions will have on leg pads so they can get hit properly.Any way it should be fun so come on out and watch a high flying big hitting game go tigers.

James Friedman gets the business on a hard hit by #11 david waters and #20 jimmy.


The Scorpions had all they could handle from the Tigers all day.
Posted Apr 14/10 - Tigers join summer league
Tampa, FL - The Tampabay Tigers have officially announced their entry into the United Florida Eight-Man League. The Tigers have played in the 11-man UFFL for multiple seasons now and are attempted to make the jump from 100 yard football to the 60 yard game.

Over the past two days the UFEL has been contacted about four possible teams entering the league and more is expected. When ever a team officially announces their entry into the league you will see it first here on the UFEL homepage.

Dont miss out, if you are a team owner and would like to place your team in the league contact Commissioner Tom Green. - April 1st, 2010
Posted Apr 14/10 - PIRATES JOIN SUMMER LEAGUE
Here come the Pirates! The Anclote Pirates are the 4th team to officially announce their entry in the newly formed United Florida Eight-Man League. With their addition the league is finally starting to take shape. As most of you know the UFEL Season will kick off in late June/Early July which leaves teams about two months to prepare.

The Tampabay Bobcats took their first steps in forming a team by announcing their open tryouts which will take place on Sunday, May 2nd at 3:00pm . "This is a new team, I am going to work on bringing in the talent needed to compete so by game time our sites will be set on a victory." Comments from Bobcat Owner R.Cotto .

April 11th, 2009
Posted Apr 14/10 - BOBCATS JOIN SUMMER LEAGUE
The United Florida Eight-Man League would like to welcome the newly formed Tampabay Bobcats Football Club into our league. The Bobcats are the second "OFFICIAL" team to enter the UFEL. They are owned by Former Anclote Pirate kicker and Current UFEL/UFFL Webmaster Ryan Cotto.

The Bobcat's official team website is linked below. It can also be found on the side of our league website.

www.bobcatsfootball.co.cc