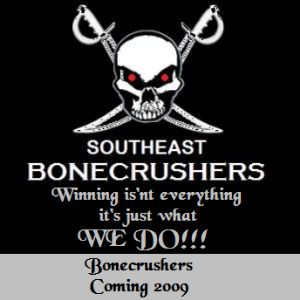 "TO" List is a list of players registered for tryouts
For Tryout Information Go To Calendar For Nov.
Welcome To The Home Of The
SE Bonecrushers Minor League Football
The SE Bonecrushers, an adult football team in the City of St.Petersburg that will provide the community with Balls-To-The-Wall explosive football. The Bonecrushers are committed to minor league football and providing an opportunity for the athlete to pursue this sport at all level. The Bonecrushers athlete are composed of all men 18 years and older, from various walks of life.
The SE Bonecrushers coaching staff have played football and also have coaching experience in HS Football, 6-man minor league, 8-man minor league and 11-man semi-pro league. The SE Bonecrushers will be bringing to every game experience, discipline and Balls-To-The-Wall Explosive Football.
The SE Bonecrushers would like to invite all football fans in the bay area to come out and support our very talented up and coming athlete each and every Saturday during the season.
Strap Yourself In For Some Of The Best
Balls-To-The-Wall Explosive
SE-Bonecrushers Football.